Hello Friends. I've been wanting to join so many different challenges to give my creativity some direction. Here's a card I did really quickly for the More Than Favors Wacky Wednesday Challenge. The challenge is to use the colors, teal, pink, cream and brown in your project.
CRICUT-LESS. ((GASP!)) I know. I know. I promise to use my Cricut for the next project/post. =)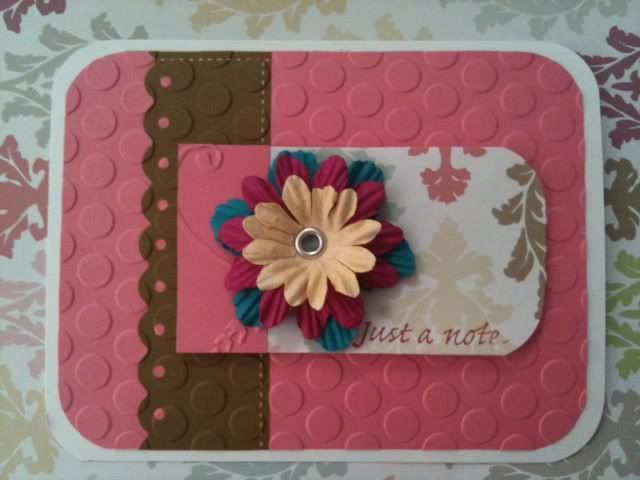 This card is 5.5" x 4.25". The base is 5.25' x 4". I used my Fiskars border punch for the brown piece and embossed it all with Cuttlebug Seeing Spots. For the top layer, I cut patterned paper from Me and My Big Ideas to 3.5" x 2". I then attached a small strip to one side after embossing it with Cuttlebug Stylized Flowers. My stamp is from Hot Off the Press Tiny Words and Images. I used my corner punch (I can't remember the brand) to round off the edges for both the top and base layers. I finished this card off with some Prima Flowers, using an eyelet, my Crop-a-dile and some pop dots.
Have a fabulous day!