Konnichiwa Friends! I've got a couple of challenges that I'm entering today's card. =) I'm so excited!
I used Life's A Beach for the sun. I originally cut out the sun for my husband to use the negative as a stencil for the sandbox he was building for our daughter. I couldn't let the cute little sun go to waste! I think I cut this at 3.5" and I stamped on a butterfly from Butterfly Beauties with Stampin' Up Ink. I stamped on the sun, then I stamped on a circle that I "pop-dotted" onto the sun. The sun was a bit too big, so I attached it to the base and trimmed the edges to flush with the base edges. I also "sponged" Handsome Hunter onto the sun.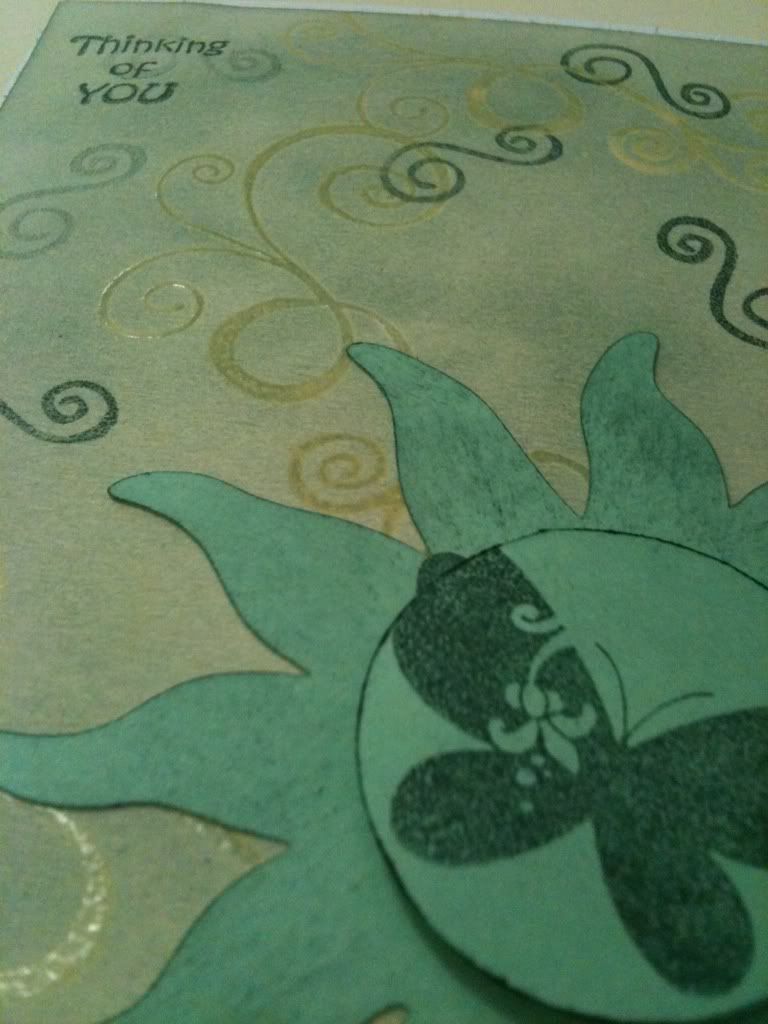 Here I go again with the heat gun! I stamped on some swirls with the Versamark pad, sprinkled clear embossing powder, got to heating, then used the Embossing Resist Technique. After I was done with that, I stamped on some more swirls with Handsome Hunter.
Recipe
Paper - cardstock from stash
Cartridges - Life's A Beach
Ink - Stampin' Up Handsome Hunter, Versamark Frost
Stamps - Fiskars Swirls of Fun, Stampendous Butterfly Beauties, Hot Off the Press Tiny Words and Images
Other - Heat Gun, Hero Arts Ultra Clear Embossing Powder
I'm entering this project in the following challenges. Play along!
- Peachy Keen Stamps :: Sketch Challenge 53 w/a twist!
- Allsorts Challenge: Things With Wings
Have a fabulous day!