Good Morning Everyone! Big Birthday Wishes to my little sister Jovie. She turns 8 today! Growing too fast. I know she won't see this post until later, so I can safely put up a picture of the card I made for her.
I used the Sweet Treats Cartridge for this one. The cupcake is cut out at 5", and I used the card feature then cut out all the layers. I have a confession: I cut out one of the layers for another cupcake on this cartridge, but everything worked out and I think it came out cute. The patterned, embossed paper for the base of the cupcake is from DCWV Sweet Treats. The cupcake "wrapper" is from Me and My Big Ideas. I used plain pink cardstock for the heart, which i just "sponged" on some ink, distressed the edges, and randomly stamped on a pair of circles.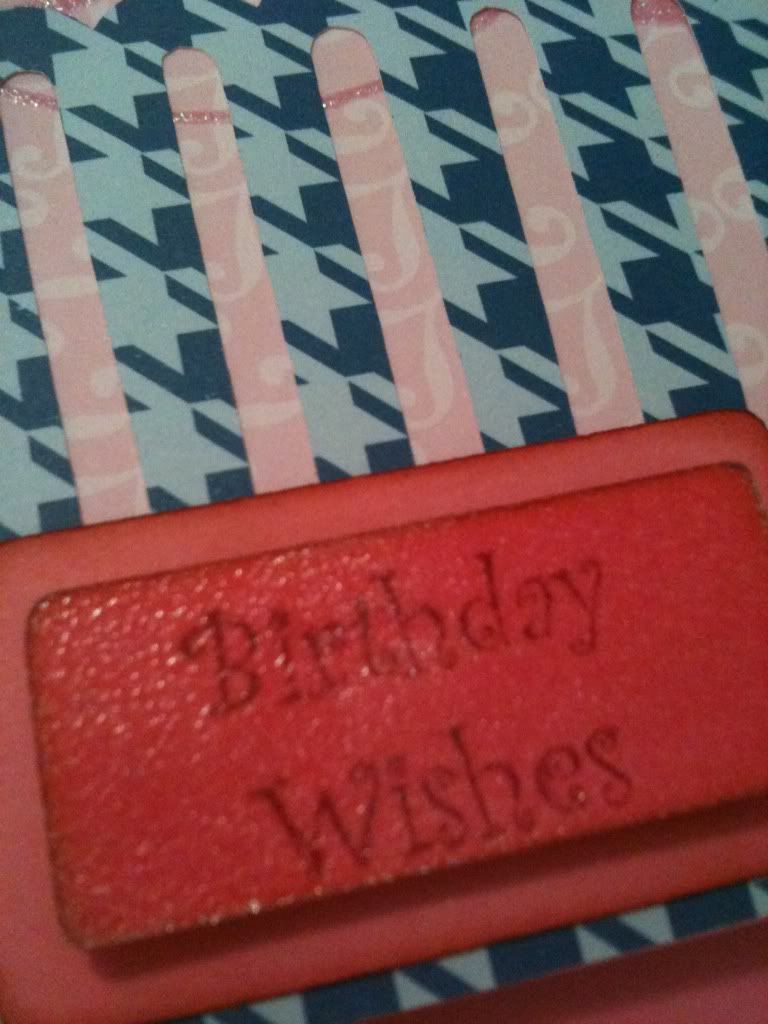 Here's a close up of my sentiment. I used Fabulous Finds for this one, cut out at 1". I edged the edges again with the same ink as the heart. I then broke out the heat gun and got to embossing! I've been wanting to try this for months since I discovered the technique... I originally wanted the sentiment to be embossed but I ended up embossing the entire piece. How I did it: I inked the edges, stamped the sentiment, sponged ink quickly over the entire piece, used Versamark Frost waterpad again over the entire piece, applied embossing powder then got to heating! The sentiment piece is "pop-dotted" over it's base to give it dimension.
Recipe
Paper - DCWV Sweet Stack, Me and My Big Ideas, stash
Cartridges - Sweet Treats, Fabulous Finds
Ink - Stampin' Up Baroque Burgundy, Versamark Frost Pad
Stamps - Hot Off the Press Tiny Words and Images, Fiskars Swirls of Fun
Other - Heat Gun, Hero Arts Unltra fine Clear Embossing Powder, Pop Dots
Hope you like it! Have a fabulous day!